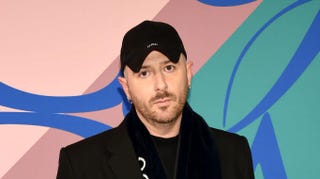 Pratt Institute in New York City is world famous for its programs in architecture, art and design. Now, Demna Gvasalia, creative director of Balenciaga, is helping students of color afford tuition.
Tuesday night at Pratt's annual Celebration of the Creative Spirit scholarship benefit, Gvasalia was honored with the Creative Spirit Award. According to HighSnobiety, Gvasalia was unable to attend but left a wonderful gift in his absence. The mogul and his luxury brand made a commitment to the Black Alumni of Pratt (BAP) to offer full four-year scholarships to two students of African or Latinx descent.
BAP was created in 1990 to provide academic and career opportunities for student and graduate members. Over the past 30 years, the group has raised more than $5 million to advance students of color in the field of art, design and architecture.

There's an undeniable need for such assistance through programs helmed by BAP and others. Fashion in particular has been criticized for its blinding whiteness, be it in choice of beauty standards, models, designers, or even the clothing itself. For instance, Gucci was heavily criticized for balaclava
sweaters claimed to be racist.
Likewise, Prada faced controversy in December of last year over its monkey-faced keychains said to also be a minstrel design.
Both Prada and Gucci have since taken steps to remedy their mistakes; Prada created a Diversity and Inclusion Advisory Council including director Ava Duvernay, while Gucci has initiated a $5 million fund for scholarships and community-based programs after intense pressure from couturier Dapper Dan.
Still, there are many more examples of fashion houses that have refused to support needed change both on the runway and behind the scenes. For Balenciaga, this is a step in the right direction.